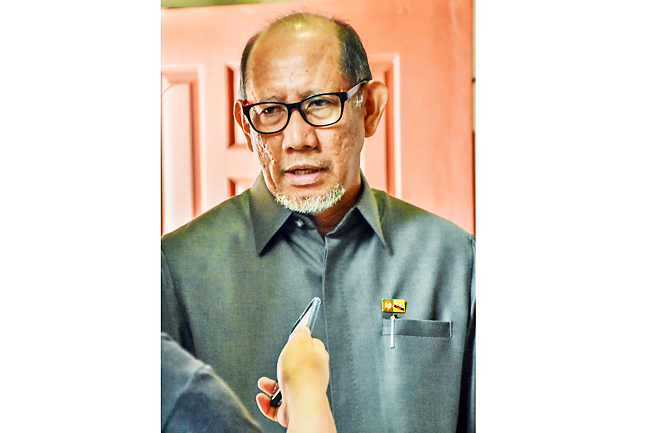 08 Sep

Brunei opening up maritime and shipping sector: Minister
September 8, 2017
EFFORTS are under way towards further improving and opening up the country's maritime and shipping sector, moving it towards more liberalisation and increasing shipping activities.
This was shared by Dato Seri Setia Awang Haji Mustappa bin Haji Sirat, the Minister of Communications, speaking to the Bulletin after the presentation of certificates to a local commercial diving company, Al-Hadid Marine Services (B) Sdn Bhd, recognising it as an external specialist for In-Water Survey services that took place on September 5.
Asked how he would like to see the maritime industry further develop, the minister said, "We are trying to open up the industry. As you know, we are setting up the Maritime and Port Authority with the whole objective of trying to improve the sector and opening it up, moving towards more liberalisation and increasing the shipping activities in the country.
"To do that, we have been trying to bring in more foreign direct investment from overseas, because we've been doing it for quite some years now and I think there is a need for us to bring in more investment from overseas into the country and develop this sector."
Muara Port Company Sdn Bhd (MPC), a joint venture company formed by Darussalam Assets Sdn Bhd and Beibu Gulf (HK) Ltd of Guangxi, China, was appointed the operator of the Muara Container Terminal in February, and is the first company from Guangxi that has successfully kick-started its business in the country in collaboration with Darussalam Assets Sdn Bhd, following the establishment of the Brunei-Guangxi Economic Corridor (BGEC).
It was reported in May that, from January to April this year, MPC saw a 25 per cent increase in container handling to 35,000 TEUs (Twenty-foot Equivalent Units) from 28,000 TEUs in the same period last year.
The minister said, "Alhamdulillah, the Muara Port Company has been established, and we are looking forward to the progress that they are making, and hopefully there will be other areas also we are looking at, that MPA (Maritime and Port Authority) will be looking at, in order to create more opportunities for Bruneians to participate in this effort."
Elaborating further, the minister said, "There are other services that we are looking at, because there are so many services which traditionally used to be given by government, but something that we could slowly let go of and perhaps concentrate more on developing the policies and creating the right, conducive environment for shipping and marine activities. There are many other areas."
He affirmed that he is confident Brunei's maritime industry can be further developed.
"We have a lot of opportunities but what is important is to establish the connectivity with various countries, especially the shipping connectivity and taking advantage of what's going on in the region at the moment, especially with the development of shipping in the region within Asean and Asia-Pacific as a whole.
"I think we have to look at the bigger picture for us to position ourselves strategically and how we can take advantage of the developments taking place around the region," he added.
Danial Norjidi