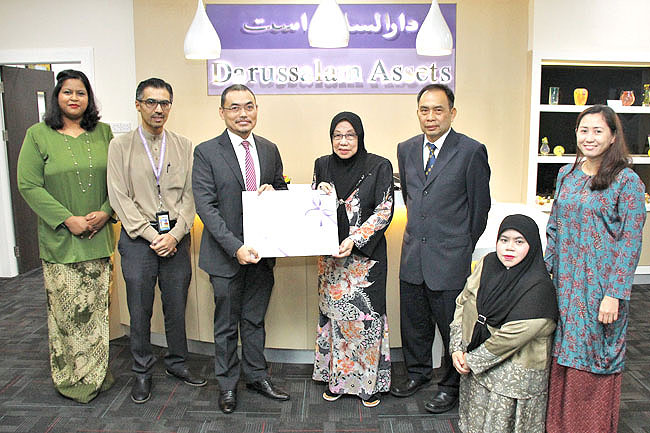 11 Aug

Donations flow for charity organisation

DARUSSALAM Assets Sdn Bhd handed over a cheque donation to Pusat Ehsan Al-Ameerah Al-Hajjah Maryam yesterday as part of its corporate social responsibility (CSR) initiative.

According to a press release, for a second year running, Darussalam Assets will be maintaining full financial support for two special needs students throughout their programmes in Pusat Ehsan for a year.

Pusat Ehsan introduced its 'Special Needs Student Adoption Scheme' in 2017, where sponsors are able to fully cover the expenses of special needs students' expenses for a period of one year. The press release states that Darussalam Assets' engagement with the scheme reflects its CSR initiative to focus on building and strengthening ties with communities. The cheque presentation took place at Darussalam Assets.

Present during the handover of the donation were Deputy Permanent Secretary (Investment) at the Ministry of Finance, and Acting CEO of Darussalam Assets Sdn Bhd Haji Khairuddin bin Haji Abdul Hamid, Administration Manager of Darussalam Assets Haji Mohamad Noor Amali bin Haji Mirhassan, Senior Finance and Accounting Manager of Darussalam Assets Sdn Bhd Laila Hussainmiya, Executive Trustee of Pusat Ehsan Pengiran Datin Hajah Noraini binti Pengiran Dipa Negara Laila Diraja Pengiran Haji Abdul Momin, Policy and Planning Trustee of Pusat Ehsan Haji Ahmad bin Haji Abdul Rahman as well as Darussalam Assets' and Pusat Ehsan's staff members.

"Corporate social res-ponsibility is not only an integral component in our organisation, but it is also highly valuable in fostering Darussalam Assets' corporate culture," said Darussalam Assets' Acting Chief Executive Officer. "We engaged with Pusat Ehsan last year, through their 'Special Needs Student Adoption Scheme', which has resulted in meaningful progress in the students' lives and it was only vital to continue this sponsorship this year."
"Darussalam Assets app-reciates this remarkable opportunity to be playing a contributory role to Pusat Ehsan's activities," he added.
Meanwhile, speaking on behalf of Pusat Ehsan, Haji Ahmad said, "With Darussalam Assets' participation last year, we were able to offer financial assistance to two of our special needs students with the expenses.
"This year, we are pleased to receive their support to continue this sponsorship for another year. The sponsorship covers not only the daily financial expenses, but it also invests into the long-term physical and educational development of these students. I am thankful for Darussalam Assets' continued support, and hope that many other organisations will follow suit."
Darussalam Assets Sdn Bhd is a holding company of government-linked companies (GLCs). Its mandate is to own and actively manage GLCs under its purview by commercial principles to increase their performance and value, and to ensure that they are managed in accordance with good corporate governance and international best practices. Since its incorporation, it has assumed direct ownership and/or management control of GLCs engaged in aviation, tele-communications, agribusiness, catering, logistics, and leisure and tourism industries.
Pusat Ehsan is a non-governmental, non-profit charity organisation committed to provide quality education, vocational training and rehabilitation programme for children and adults with special needs.
Danial Norjidi
BORNEO BULLETIN