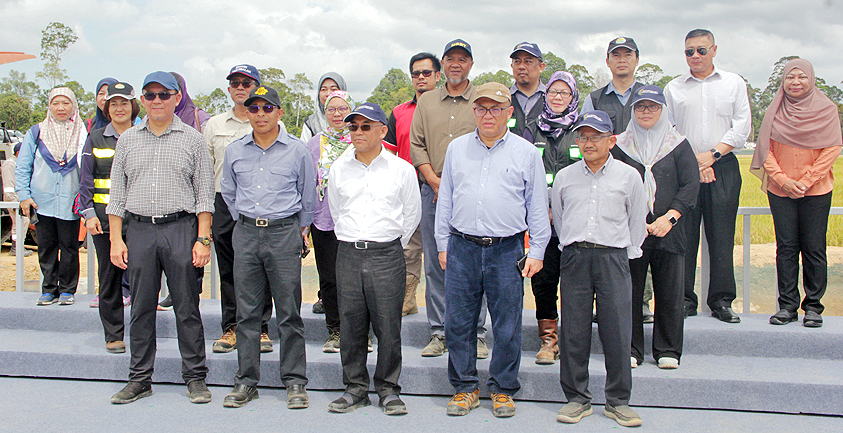 10 Feb

First paddy crop harvested at Kandol project

Members of the 500-hectare Commercial Paddy Plantation Opening Project Executive Committee harvested the first crop of the commercial paddy plantation at the Kandol Agricultural Development Area (KKP) on Saturday.

The paddy harvesting event was a continuation of Phase One of the 500-Hectare Commercial Paddy Plantation Project at the KKP Kandol in the Belait District, officiated by His Majesty Sultan Haji Hassanal Bolkiah Mu'izzaddin Waddaulah ibni Al-Marhum Sultan Haji Omar 'Ali Saifuddien Sa'adul Khairi Waddien, Sultan and Yang Di-Pertuan of Brunei Darussalam on October 28 last year.

Minister of Primary Resources and Tourism Dato Seri Setia Awang Haji Ali bin Haji Apong and Minister of Development Dato Seri Setia Ir Awang Haji Suhaimi bin Haji Gafar as Co-Chairman of the Executive Committee for the Opening of the 500 Hectares Commercial Paddy Planting Area Project in Kandol were present.

Deputy Minister of Finance and Economy (Economy) Dato Seri Paduka Dr Haji Abdul Manaf bin Haji Metussin as the Chairman of the Operation and Investment Committee for the project and representative of Minister at the Prime Minister's Office and Minister of Finance and Economy II and Co-Chairman of the committee Dato Seri Setia Dr Awang Haji Mohd Amin Liew bin Abdullah, and Deputy Minister of Development Dato Seri Paduka Ar Awang Haji Marzuke bin Haji Mohsin as the Chairman of the Technical and Infrastructure Committee for the project were also present.

Legislative Council (LegCo) member, Acting Penghulu of Mukim Labi and an executive committee member of the project Yang Berhormat Hanapi bin Mohd Siput, permanent secretary, deputy permanent secretary, senior officers from the ministries and Darussalam Assets Sdn Bhd also attended.

Attendees were briefed on the development of the high yielding paddy variety of Sembada 188 by Paddy Operations Manager of PaddyCo Sdn Bhd Fuziah binti Haji Hamdan.

The event began with the recitation of Surah Al-Fatihah led by Mosque Affairs Officer and Imam of Pekan Seria Mosque Haji Aminorddin bin Haji Md Yussof, followed by the harvesting ceremony.

Members of the committee took a closer look at the progress of the infrastructure and farm management and visited agricultural sites in the surrounding area of Mukim Bukit Sawat and Merangking, managed by various companies including TS Wood Sdn Bhd, Asia Enterprise (AE) Sdn Bhd, Natural Biotech Resources Sdn Bhd, NSEY Sdn Bhd, WYWY Farm, and Golden Chick Hatchery and Breeding Farm Sdn Bhd.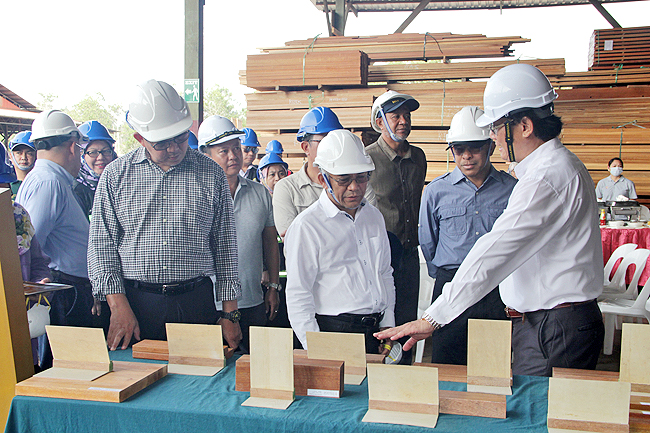 Daniel Lim
BORNEO BULLETIN