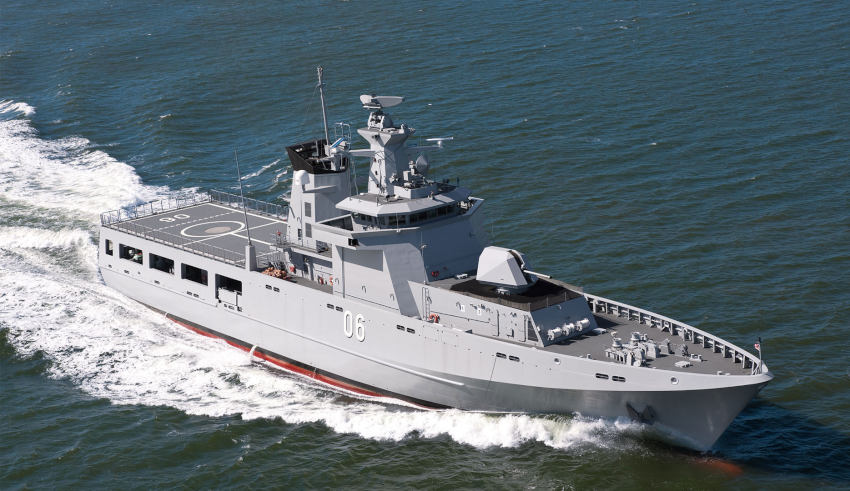 15 Mar

Lürssen secures long-term Asia-Pacific sustainment contract
15 March 2019
The new joint venture, named Muara Maritime Services, between Brunei government-owned holding company Darussalam Assets and Lürssen will perform full service support for the entire Royal Brunei Navy's fleet, including the PV 80 Offshore Patrol Vessel, which is a similar design to the Royal Australian Navy OPV in the SEA 1180 program.
The sustainment contract includes maintenance, repair and overhaul services as well as spare part supply and warehousing services. The contract between the government of Brunei represented by the Ministry of Defence and Muara Maritime Services was signed on 6 March 2019 in the presence of the Minister of Defence II, the Minister at the Prime Minister's Office and Minister of Finance and Economy II, the Acting Commander of the Royal Brunei Armed Forces, Peter Lürssen and other dignitaries in Brunei.
Tim Wagner, managing director of Lürssen and chairman of Lürssen Australia highlighted the importance of the contract, hinting at the company's long-term plans to establish a fully integrated Australian manufacturing, sustainment and maintenance centre, saying, "This contract substantiates Lürssen's global strategy, including Australia, to build capable navel vessels in conjunction with the delivery of customised sustainment services."
The sustainment contract is for an initial period of ten years and consolidates Lürssen's growing reputation and presence in the Asia-Pacific.
Lürssen, the prime contractor to deliver the $3.5 billion SEA 1180 program, which will deliver 12 OPVs for the Australian government, plans to build an export business from Australia. It has partnered with Western Australian-based Civmec to establish Australian Maritime Shipbuilding & Export Group (AMSEG).
AMSEG, under the guidance of Lürssen, will play a significant role in the building of 10 OPVs at the Henderson shipyards in Western Australia.