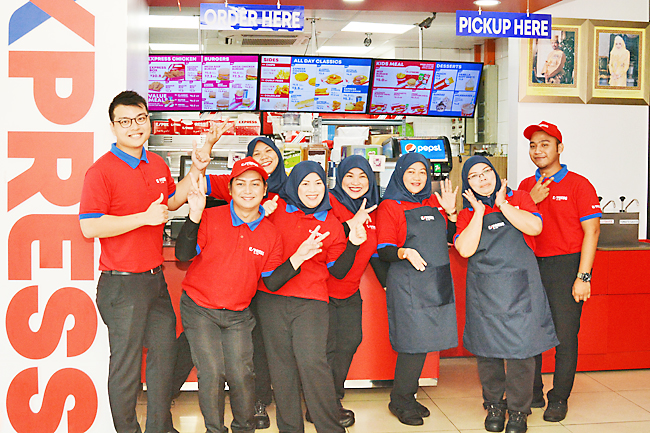 29 Nov

Revamped Express introduces new menu

RBC Express Fast Food brought back the nostalgic taste of its signature potato chips, chicken pie, crunchy fried chicken, and chicken roll with its signature colour of red and blue packaging following the unveiling of the rebranding of the fast food restaurant yesterday.

The new branding and logo reflects the growth, the drive for innovation and denotes the company's vision to be a prominent and endearing icon in Brunei's fast food industry for years to come, with hopes of taking the brand overseas in the future.

The company swapped the fries and returned to its original potato chips and introduced new menu items including fish burger, peach pie, and chocolate sundaes.

Express also rolled out new simplified packaging, bold red and blue coloured card containers and paper, paired with its iconic stripes.

Express Manager Alvin Lim said, "As the first local fast food in the country, Express holds a nostalgic connection for many Bruneians. It opened its door to customers at the Brunei International Airport in 1988. We give our tremendous thanks to our customers for continuing to support and dine with us."

"The new logo design comes with the iconic Express Red and Blue colour. We felt it resonates with who we are and wish to portray that image just like how it was in the beginning."

During the rebrand unveiling at Kiulap, Alvin Lim also acknowledged Express' longest serving employees who are part of the original team from 30 years ago namely – Siti Armah and Noriah – and Sita who has been with Express for 16 years.