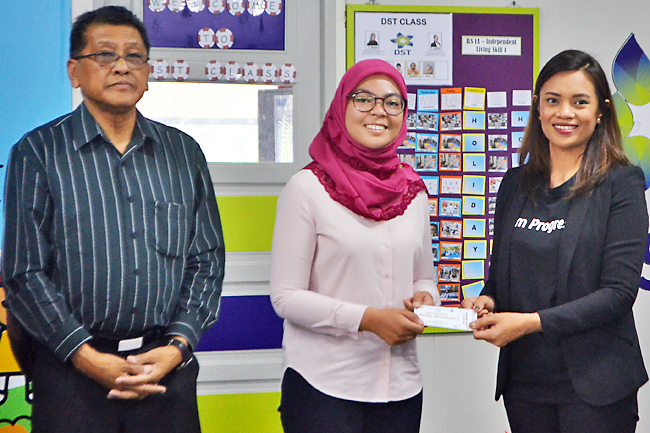 21 Sep

Wonderful 'Wonderland' at musical charity concert

THE Society for the Management of Autism Related issues in Training, Education and Resources (SMARTER) Brunei organised a ticket presentation for sponsors of the musical charity concert 'Looking through The Autism Wonderland' yesterday.

President and CEO of SMARTER Brunei Malai Haji Abdullah bin Malai Haji Othman at SMARTER's Edge Centre in Kampong Mata-Mata presented the tickets.

Sponsors – Progresif Cellular Sdn Bhd, Standard Chartered Bank, Bank Islam Brunei Darussalam, Jerudong Park Medical Centre, Darussalam Assets Sdn Bhd, Othman & Associates Consulting and Thomson Furniture – will present the tickets to International School Brunei's secondary school and sixth form centre, Jerudong International School, Yayasan Sultan Haji Hassanal Bolkiah Secondary School, St Andrew's School, St George's School and Chung Hwa Middle School.

The musical charity concert will be held tomorrow at 7pm at the Main Conference Hall of the International Convention Centre (ICC) in Berakas.

Over 100 students from SMARTER Brunei will be involved in the production of the fifth instalment of its musical charity concert, 'Looking Through The Autism Wonderland', in collaboration with students from Universiti Brunei Darussalam's (UBD) Pengiran Anak Puteri Rashidah Sa'adatul Bolkiah Institute of Health Sciences (PAPRSB IHS).

An adaptation of the classic Alice's Adventures in Wonderland, the concert aims to raise funds and raise the community's awareness for acceptance and action.
Fizah HAB
BORNEO BULLETIN